More and more companies are putting freedom to choose at the heart of their remu­ner­a­tion policy. For example, employees can often put together a sig­nif­i­cant part of their salary themselves, tailored to their needs, via so-called ​'mobility plans', ​'flex income plans' or ​'cafeteria plans'. For employees who can compile their salary according to their own needs, it's only logical that they're given the same level of freedom when it comes to their employee gift. This means they can choose the gift that best meets their needs and as an employer you don't waste money on gifts that aren't really what they want. Result? Everyone's happy!
But how do you do that in practice? How do you take into account the needs of each member of staff? That's where we come in. With the help of Kadonation, every organ­i­sa­tion can put its employees well and truly in the driver's seat when it comes to employee gifts too.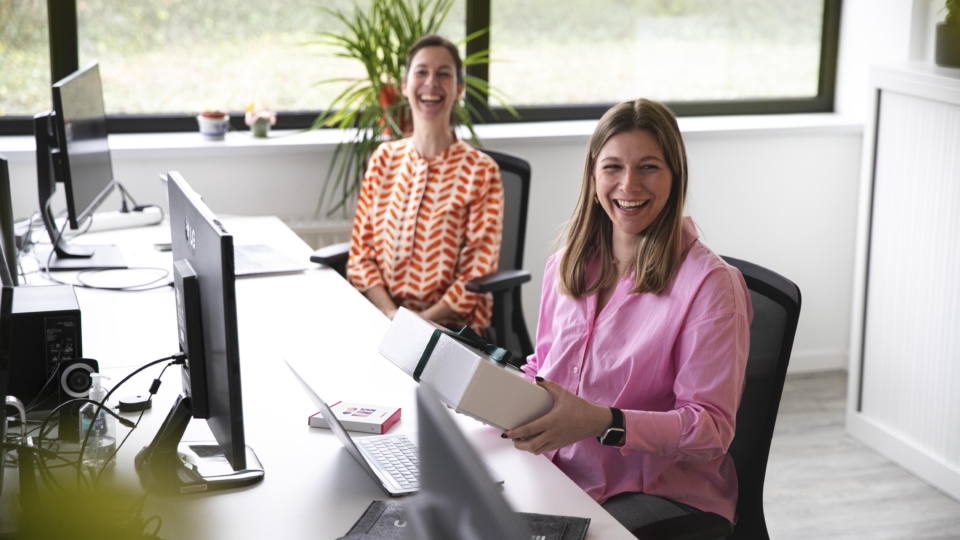 Kadonation Gift Card to the rescue!
There's no better way to give employees complete freedom than with the Kadonation Gift Card. With more than 1,000 stores, 90 retailers and charities where the card can be spent or donated, everyone will find a gift that's perfect for them. By adding a per­son­alised (video) message from the CEO, line manager, team lead or colleague to the Kadonation Gift Card, you can also make this gift completely personal.

The gift card also benefits people and planet, which means it is in line with the CSR objectives of many companies. For example, we support the WeForest project with every gift card sold. Thanks to our customers, a total of more than 100,000 trees have already been planted.
For every €100 you order through our Happy Birthday Service, we also donate €1 to FEESTvarken vzw (BE) and Stichting Jarige Job (NL), organ­i­sa­tions that give birthday presents to children in poverty. All our cards and boxes are also made from sus­tain­able FSC paper. So you're not only giving your employees the gift they really want, but you're also doing your bit for the planet and society.
Importance of personal gifts
Receiving the right gift plays an important role in the level of personal appre­ci­a­tion the employee feels. This was also one of the insights from our recent research into what employees think make the best staff gifts.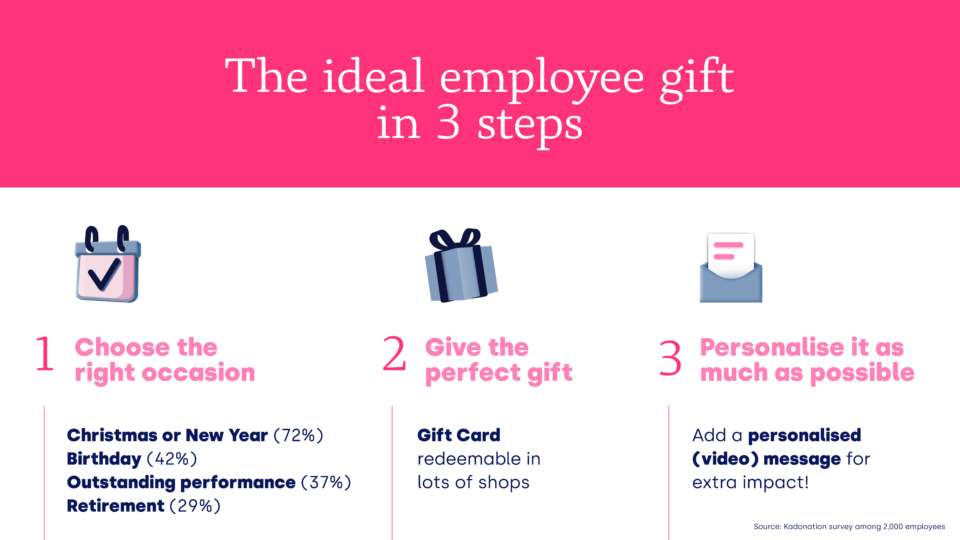 The occasions when employees would like to receive a gift from their employer are often personal. For example, their birthday, retirement, wedding, anniver­sary, newborn… This is what makes it so important for employers to treat everyone as an individual and ensure no one feels like a number, which in turn increases their engagement with the company. In other words, a win-win for you and your employee.